From our sports writer Duncan Disorderley
Greetings!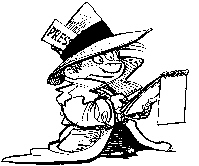 I thought I might pen a few lines to your blog as I met my old friend Bob Langstaff the other day and we got around to talking about the early days of the Macclesfield Quiz League when I was first reserve for the Robin Hood in Rainow. It's good to see that this old hostelry has a team in the Quiz League once more, trying to do as well as its illustrious predecessors. It's even better to know that the Robin Hood is still open! This time last year there were three pubs in Rainow and now there's only the one - The "Rising Sun" has finally set, and the "Highwayman" has robbed his last shilling. Bob told me that my old mate Graham Holt was making a guest appearance for the Tavern against the Plough Horntails so I thought I'd go along for old time's sake as this year is Bob's Silver Quizzing Anniversary.
The quiz itself was quite good, but not like the quizzes of yore. Those were the days! – the Quiz League of the 1980s when men were men and so were most of the women. There were guys like Nick Dennis, ex-Brain of Britain who led the fearsome Millstone team and used to insult opponents using the 'sledging' like the Aussie cricketers do only in a Cockney accent. His team was so dedicated they used to interview hire and fire! They were all fairly old so they had a young lad who was under instruction during the match to answer only sport and pop music questions (at which he was a master) and confer on all other questions.
Then there was the famous smoking Vicar, David Harrison who gave up the league when he could no longer chain smoke his way through twenty rounds. He once played on the quiz team for one of the little house-pubs – I think it was the Morning Star - and we were neck and neck until we had a specialist round on Saints and he knew the bloody lot! I'm convinced to this day that it was divine intervention. Yes, those were the days, when you had to put up with questions like "What is the only creature besides man that can catch leprosy?" That raised some eyebrows I can tell you. Then there were those team members who came out for a pint and an argument. I won't name the chief antagonist as he may be still around, but no, it wasn't Paul Beard – he made PB seem like a choirboy!
The Tavern team did OK. Graham held his corner, Bob has lost none of his charm and good looks and Wendy only made one howler when she said that a Royal Enfield was where the queen kept her chickens. Tommo answered well between bouts of making things disappear and they eventually won the match. Didn't see Nick though. Somebody told me he was away celebrating his 70th birthday. I must say he doesn't look seventy, though he must have done at one time!
And in case you were wondering, nine-banded armadillo's can also catch leprosy.
Cheerio for now
Duncan Disorderley